Poland
Information
Founded

April 14, 966

Population

38,483,957 (2014)

Capital
Continent

Europe

Area

312,679 km2
120,696.41 sq mi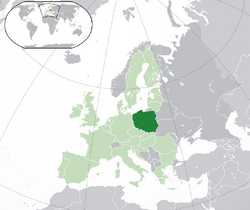 Poland is an Eastern or Central European country bordered by Germany, the Czech Republic, Slovakia, Lithuania, the Ukraine, Russia, Belarus, and the Baltic Sea. Earlier in its history, in union with Lithuania as a commonwealth, it was one of the major powers of Europe. However, as the power of its leaders waned with Poland's increasing decentralization, it was gradually divided up by other powers, such as Russia, Prussia, and Austria. Later on, after the Russian disaster in World War I, Poland regenerated itself as an autonomous nation. In this first independent state, military leader, Jozef Pilsudski (regarded as a founder of Poland) along with successive military dictators, ruled over Poland. The Solidarity movement to give more political freedom was also born in Poland. For a while Poland was able to hold off the Soviet Union's and Germany's attempts to subjucate them, but when the Second World War was started in Europe, Nazi Germany and the communist superpower divided up the polish territories. However, unlike the first World War, Poland remained under Russian/soviet influence past the war until the dissolution of the Soviet Union in 1991. Modern Poland was thus formed in the aftermath of its communist past.
Ad blocker interference detected!
Wikia is a free-to-use site that makes money from advertising. We have a modified experience for viewers using ad blockers

Wikia is not accessible if you've made further modifications. Remove the custom ad blocker rule(s) and the page will load as expected.