Otto the Merry (1301 - 1339) was the co-Duke of Austria and Styria (1330 - 1335), the Duke of Carinthia (1335 - 1339) and the Margrave of Carniola (1335 - 1339).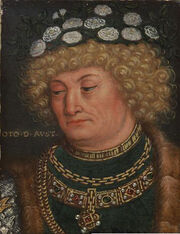 Otto was the last child of the Habsburg Emperor Albert I. He was born in Vienna on 23 July 1301. After the death of his brother Frederick I, Otto co-ruled Austria and Styria with his brother Albert the Wise. When Henry of Carinthia died in 1335, the Emperor Louis IV of Upper Bavaria reneged on his promise to Henry to allow his daughters to rule, instead giving Carinthia and southern Tyrol to Otto, who was crowned on 2 May 1335.
Otto henceforth left Austria and Styria to his brother, instead focusing on his own lands. He founded the monastery of Neuberg an der Mürz in Styria, and the Chapel of St. George in Vienna.
Ad blocker interference detected!
Wikia is a free-to-use site that makes money from advertising. We have a modified experience for viewers using ad blockers

Wikia is not accessible if you've made further modifications. Remove the custom ad blocker rule(s) and the page will load as expected.