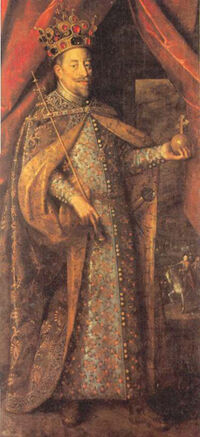 Matthias (1557 - 1619) was the Holy Roman Emperor and King of Germany from 1612 until 1619.
Matthias was born in Vienna on 24 February 1557 as the third son of the Emperor Maximilian II. Matthias lived primarily in Vienna where he formed a close relationship with its bishop Melchior Klesl who would later become one of his chief advisors. Matthias' eldest brother, the Emperor Rudolph II, was an ineffective ruler, and Matthias slowly established his power in his lands. During the Hungarian which began when Rudolph attempted to force Roman Catholicism on the kingdom, Matthias forced him 1605 to let him deal with the situation. The result was the Peace of Vienna in 1606 which granted leigious freedom in Hungary. Matthias was also recognised as the heir apparent in the Holy Roman Empire due to Rudolph's increasing insanity.
After allying with various Habsburg estates, Matthias forced Rudolph to grant him Hungary, Austria and Moravia in 1608. In 1611 Matthias also gained Bohemia, and after Rudolph died the following year was elected the Holy Roman Emperor. Matthias and his chief advisor, Melchior Klesl, attempted to reconcile Catholics and Protestants in the Empire to strengthen it. His policies were opposed strongly by other members of the Habsburg family, most notably his younger brother Maximilian who attempted to secure their cousin Ferdinand on the throne. In 1617 Ferdinand was crowned King of Hungary, and in 1618 also the King of Bohemia. The Bohemian revolt in 1618 forced Matthias to reverse the conciliatory policies and to imprison Melchior Klesl, but being ill was unable to prevent a takeover by Maximilian's faction. Matthias died in Vienna on 20 March 1619 and was succeeded by Ferdinand on the Imperial throne.